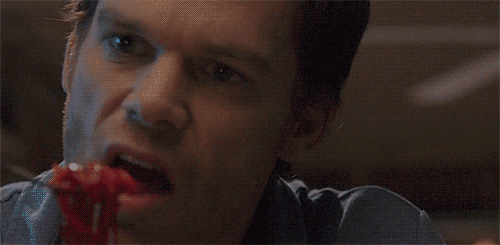 * ENCHILADOS SHRIMPS
(the recipe is my review of the original recipe)

Ingredients for 4 people
– 1/2 kilo of unshelled prawns
– 3 tablespoons of olive oil
– 1 chopped onion
– 3 garlic teeth
– 1 sprig of parsley
– 1 teaspoon of salt
– 1/8 teaspoon pepper
– 1 lemon
– 3 tablespoons of tomato sauce
– 1/2 cup of sweet dry white wine
– hot pepper to taste
We lightly mean the prawns. Prepare a sauté with oil, garlic, onion and parsley. In this sauce we throw the previously peeled prawns and garnished with salt, pepper and lemon. We remove them and add the chilli pepper, tomato sauce and wine. At this point, we throw the prawns back, uncover the pan and cook them over low heat until they are very tender.
Easy, right?
Once again, I find myself watching a bloody TV series and being really hungry! – and the fact that I mention it on Friday the 13th worries me a little … coincidences? –  I'm starting to prove myself that I'm not the only one since from the beginning there is a parallelism between death and food!
Anyway, I started this TV series completely by chance, it was August, I had just finished rereading Harry Potter for the millionth time and outside there was one of those summer storms that do not cool at all.
Within an hour at most I would have had to go out to work so it was not the case to start another book,hence I turned on the TV thinking that for sure I would have caught replicas of replicas of replicas.
And instead…
Miami beaches, van food on the boardwalk and … murders.
Many, bloody, detailed murders!
What hit me instantly was the protagonist, Dexter (from which the series takes the title) played by Michael C. Hall[1] that I had been able to appreciate in Six Feet Under, capable of communicating with the minimum of expressiveness (required by the role!) the maximum result. Fear, anger, excitement. He succeeds to get the message across despite being aseptically basic, to prevent the technical police technician's coverage from jumping and revealing his true nature as a serial killer.
Not just a serial killer, though, he kills only criminals!
A kind of law bringer, however sociopathic.
I couldn't not fall in love with it, could I?
Needless to say, I arrived late for work and as soon as I got home, I searched for it on the web (I know, you can't do it! Buy the DVDs).
I saw it from the beginning, mostly in the evening hours, and I suggest you do the same , possibly always equipped with some Mexican food or similar, because they talk about it and it shows industrial quantities of food and even when I had already ate I wanted something spicy, or delightful.
I immediately became attached to the character of Debra – the stepsister, policeman, of Dexter – and to Angel – the colleague, an accomplice of my eternal hunger – but I must warn you, if you are  easily squeamish, or a little snobbish, it's not for you , first of all it is a Showtime show, if this does not tell you anything I confirm, it is not for you. It is violent[2], sexually explicit, vulgar in language.
But it has plots, textures, characters, so brilliant that after a while I didn't even notice it anymore.
My relationship with Dexter, as with other TV series, was wavering, I finished the first three seasons that same August, but I struggled a lot with the fourth and fifth, so much so that I left it for a while (two years! !!) before ending with a marathon – always during the summer! – of the sixth, seventh and eighth seasons (which in the meantime I had sporadically already seen on TV … a sign that they were actually replicas of replicas of replicas and it was a coincidence that for me it was a novelty) and a kilo of  enchiladas shrimps * – which once after the series ended, it took about eight months before I could ate them again…
I don't know if you, like me, will feel nostalgia from time to time, if you think of Dexter every time you eat shrimp or every time you see a tarpaulin, or a refrigerated truck … if so there are two remedies: the video game, Dexter : The Game (not exactly the best of originality in the title!) And the web series, Dexter: Early Cuts.
I also found out (only years after ending the series) that Dexter's script was taken from a novel but I haven't had the privilege of reading Jeff Lindsay's work yet, so I can't judge it, what I know is that the two transpositions are very, very different, therefore they can also be taken separately. But it certainly could alleviate nostalgia.
Or, more simply, wait for the summer in the late evening and you will see that it will be repeated forever …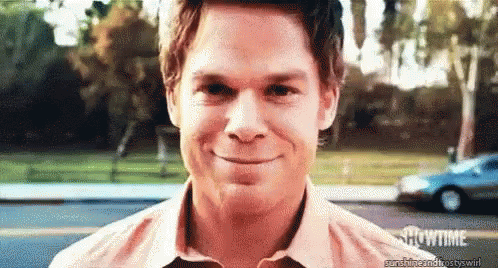 ---
[1] In order to play Dexter Morgan in the best way, the protagonist Michael C. Hall revealed that he had read various FBI dossiers to understand the personality disorders and characteristics of the psychopaths and that he also viewed some interrogations of the Miami police, interrogations of people whose personality did not overlap with Dexter's profile. Hall has instead found a connection with Hannibal Lecter on the character and his success, of which he "has his intelligence, his connection and always quickly get away from his emotional life", underlining however that Dexter "is not a classic serial killer . He has an obsession with wanting to kill those who deserve to be killed. It has a code: only those who have done wrong can die. This leads the normal public to become attached to such a character ».
[2] In April 2011 the police and the inhabitants of Long Island nicknamed "Dexter" a mysterious serial killer, still without identity, guilty of a dozen murders and who seems to kill his victims following exactly what was seen in TV series like Dexter . Given the absence of clues, traces and evidence useful for his capture, many insiders have speculated that the killer is a person who is aware of investigation methods and techniques and who may even be part of or have been part in the past of the police force, just like the character of Dexter Morgan.