Family is a very complicated issue. Should not. In reality it should be very easy to define a family as a nucleus of people who love, support and create problems for each other …
However, this is not always the case, there are those who are tied to tradition and those who have caught up with the concept of "extended family", those who have had to deal with it and those who pretend that nothing has changed.
For me, the family is not made up of blood or tradition. It is made by the people who have raised me in my life. With severity and affection.
It is made by my mother who prepares the broth for me if I'm sick even if I'm more than an adult. From dad who makes me fill up the car to make me feel safe. From my brother who shares with me this absurd journey called life.
And by countless uncles, cousins, nephews, friends who are now a bit like cousins ​​in law, etc. etc.
I am a child of tradition and yet I have never chased it. Rather. I have been a fighter in the campaign for fathers' rights in foster care, I am a staunch supporter of gay marriage, and I firmly believe that they should give children up for adoption even to singles.
In short, for me family means love. Unconditional. Without tags, color, sex, blood.
Family is a very important part of my life, so I was very attached to one of the most exciting, exciting, moving TV series in the history of TV series, capable of melting even the most insensitive of viewers thanks to a devastating simplicity!
At first it's not clear what it's about, and if you haven't even watched the pilot, go and look at it immediately before continuing this show!!!
Yes, because the first episode begins with five characters Jack (my beloved Milo Ventimiglia) and his wife Rebecca (Mandy Moore), expecting triplets; then brothers Kevin (Justin Hartley), a sit-com actor in crisis, and Kate (Chrissy Metz), who has long been fighting to lose weight; and Randall (Sterling K. Brown), a successful employee who finally decides to track down his real father. Characters linked simply by the day of birth and age. So it seems … until the end of the episode, in which every piece of the puzzle finally fits and we discover that the five characters are much more than people born under the same moon, they are a family !!! The Pearsons.
Kate, Randall and Kevin are Jack and Rebecca's triplets, two naturals, one adopted… and these five people are surrounded by equally wonderful characters that makes you want to hug them, and take my word for it, I don't hug.
Ever!
But this family is wonderful!
A family like many others, actually, with its ups and downs, with arguments and affection and problems and solutions; what are told are emotions in their purest and most direct form, thanks to a practically perfect narrative structure, to the elegant editing of each episode; the staging of life that, although it may often seem static and banal, manages to surprise you every time.
The family in the present and the family in the past: this is what This is us is about.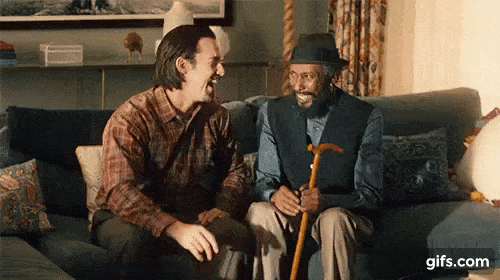 And it does it with a disarming sweetness, without NEVER falling into mere do-gooding. Without ever exceeding. Touch those strings that each of us desperately tries to hide every day and leaves us free to be able to give vent to our emotions. I thank the Pearson family for every laugh, every tear (especially tears, I admit!) and adventure! Because every time I sit down to listen to their stories, to look at their life choices, I feel part of the group. I'm not alone. I love every moment of the Big Three with Jack, I understand Rebecca's frustration as she tries to give herself completely to her children despite everything. Kate's efforts to be seen as a person and not as an overweight person. Kevin's insecurities hidden behind the bully facade. And the family that Randall created in the footsteps of his adoptive father first and then biological.
Tears, tears, tears!
And I always appreciate my family a little more …
So, prepare snacks *, blanket and a bunch of tissues!!! The Pearsons will not disappoint you!
* Hot Dog "this is us"
(the recipe is a variation of my friend Anna's improvisation that Jack does in the TV series)
Ingredients for 4 people:
-4 Hot Dog Sandwiches
-4 Wurstel the big ones for hot dogs.
– 4 packets there crackers
-2 eggs
-10g of butter
-1 tablespoon of flour
-½ glass of milk
-200g of cheddar (or 5 slices of cheddar)
-Salt to taste.

Cheddar sauce preparation:
In a saucepan, melt the butter and then add the flour, mix until you get a hazelnut-colored mixture.
Add the milk and a pinch of salt, remove until the mixture begins to thicken.
At that point we add the chopped cheddar or the chopped cheddar slices and mix until the cheese is melted and we have our cheddar sauce.

Preparation:
We take the crackers and chop them coarsely, the pieces should not be too big, but not too chopped.
In a small bowl, separate the egg yolks from the whites, whip the latter lightly (not with the mixer, with a fork it will do just fine), until the mixture becomes moderately frothy.
We pass the frankfurters, first in the whipped egg whites, and then in the mince made with crackers, creating a homogeneous breading. We repeat the operation for each sausage, then let them rest in a bowl for at least 15 minutes.
We cover the bottom of a pan with sunflower oil, when the oil is hot enough we can finally cook our frankfurters.
The cooking times of the sausages are short, but taking into account the presence of the breading they will be slightly longer, so let's make sure that the sausages are golden on each side.
When cooked, place each sausage in the appropriate sandwich.
With the help of a spoon, pour the cheddar sauce (strictly hot) on each hot dog and put on another episode of This is us.