Cold borsch *
(the revisited version of the classic Ukrainian beetroot soup: a soup that has ancient origins in Ashkenazi cuisine) and broken fingers **,
* Cold borch
(I took the idea from the Expo 2015 recipe book)
Ingredients (for 4 people):
-1 kilo of Beets
– 2 liters of vegetable broth
– 1 Onions
– 1 Carrots
– 1 tablespoon of brown sugar
– 40 milligrams of lemon juice
– 100 milliliters of sour cream
– 1 pinch of Thyme
– 1 pinch of parsley
Method
We boil the peeled beets in the broth with the onion and carrot until they are well cooked and soft. (If the beets are already boiled, they must be seasoned in a saucepan cut into small pieces, with the carrot and onion and half of the broth).
Drain the vegetables and keep the broth, blend the beets with the other vegetables, adding the broth little by little until the desired consistency, more or less thick.
Add the lemon juice and sugar, mixing well and adjust with salt and pepper.
We put the soup in the refrigerator for at least 2 hours before serving it.
This version should be served in small cups with a spoonful of sour cream or yogurt, seasoned with some aromatic herbs.
** Broken fingers
(the recipe is mine, but it's not really original, eh))
Ingrediants:
– 30 mini frankfurters;
– pistachios to taste
– abundant ketchup;
– 4 tortillas.
Preparation:
We cut the tortillas into strips to roll them around the body of a sausage; we put a little ketchup on top of each frankfurter and then cook for about in the microwave until the frankfurters are pink.
The peculiarity lies in serving them on a plate of ketchup and putting half pistachio at the end of the frankfurter so as to simulate a fingernail.
I once did one of those "what tv series character are you?" and Dr. Brennan came out[1].
I'm not sure it's a compliment considering that despite being a beautiful, extremely intelligent woman with an excellent social position,…. She is totally unable to behave properly, to interact with others and more than once she has risked someone choking her because she doesn't know when she needs to shut up.
I'm not like that, I don't reflect on it, if I have one quality it is to be very diplomatic, even with those people I would just like to lock up in a box with a little voice that repeats to them in a loop "grow, grow, grow". Yes, because three things I really hate in a person: ignorance! (especially in a world where we are bombarded with information), superficiality (it does more damage than you think) and immaturity.
Attention, I want to clarify that by immaturity I mean childish behavior of the capricious type, that type of behavior: if I am not the source of all adoration then it is all wrong.
Keeping a good dose of Peter Pan in each of us is sacrosanct. Woe to take yourself too seriously, woe to not take the time to play! Any hobby, even one that at first glance may seem childish, is fine, because it preserves us from cynicism and the atrocious discovery that the world sucks.
But childhood is very different from immaturity !!!!
Maybe now I feel a little Brennan.
WHO IS DOCTOR BRENNAN ?????
Seriously? Have you never watched BONES in these years ?????
Impossible!
The series is loosely based on the adventures of Temperance Brennan, the eponymous literary character protagonist of the novels by forensic anthropologist Kathy Reichs[2] (herself among the producers of Bones). Even if the differences are abysmal, so much so that despite having read a couple of books (the Temperance of the novels, for example, she is an elderly woman with alcoholism problems) I had not recognized her belonging except for the names of the characters.
Not the classic crime, it is certainly much lighter, but it remains very pleasant and very often ironic to the point of making you want to watch another episode, not the usual crime because here there are only the bones of the victims, and why, after the first few five minutes, in case we don't care a damn anymore, we want to know about the life of the laboratory (in which the protagonists interchange in a realistic way being interns and trainees!), who will be appointed King ?, is the question that will go on for 12 seasons and that will eventually have its answer.
And we want to know about the loves between the protagonists, especially of Dr. Bones, considering her characterization: Temperance is a very introverted character and hardly opens up to others; she has a deep friendship with her collaborator Angela Montenegro, who is also her best friend, but she also has several communication problems with her. When something touches her closely, such as a particularly difficult or dramatic situation, she tends to become cynical and logical until she no longer seems human in the eyes of the other characters, she herself claims to have to put some distance between herself and her corpses to avoid be emotionally involved and therefore no longer be objective towards the facts. Despite all of this, Brennan does not believe in psychology, but she is very attached to Lance Sweets, the FBI psychologist. A habit of Dr. Brennan is to attend the funeral of all her victims. She has three different degrees, she is skilled with weapons and is very good at hand-to-hand combat.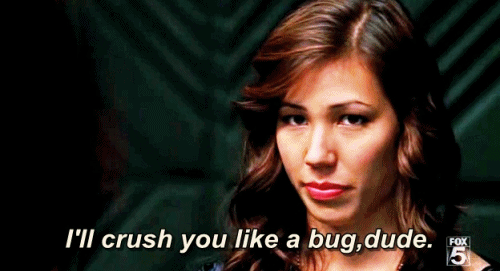 She has a real adoration for Wonder Woman, so much so that every year at Halloween she dresses up as the famous comic book heroine.
In line with the actress who plays her (Emily Deschanel is vegan) Brennan follows a strictly vegetarian diet.*
NO, DEAR MY TEST, YOU ARE REALLY WRONG !!!!!!!! I DON'T LOOK LIKE BRENNAN.
I mean, I LOVE her, many don't know that the idea for Sheldon Cooper's whims is taken from her and expanded. She is a wonderfully scary woman.
But no, she doesn't take anything with me.
Two episodes really left a bitter taste in my mouth, the choice to let one of my favorite characters (I don't say who) die for no apparent reason, even in a somewhat uncoordinated and sudden way.
And the choice of a sudden relationship between the two protagonists who after years and YEARS of banter, denial, other relationships, end up together because … Emily Deschanel was clearly pregnant!
Okay, unlike other TV series, getting her out of the way would have been pretty bizarre, but killing a storyline that's been waiting for seven seasons in this absurd way was an unforgivable mistake.
And in fact since then I have continued to watch it but with less interest.
It is as if something has broken, as if I have lost faith in the series.
But the first seven seasons remain a little gem of unforgettable characters, jokes that I wish I had written and interesting plots!
In the end I got to the finale written by showrunners Michael Peterson and Jonathan Collier who admitted in an interview:
"It was hard. I was honored that they asked me and Jonathan to write the ending, but then I thought, 'We have to come up with the last lines of the series, maybe I shouldn't have said yes.' Regarding the final dialogue, Peterson revealed: "We thought the best thing was to do one of those dissolves where David and Emily argue to the bitter end. Sometimes they were written, sometimes improvised. David asked us for some freedom for him and her in the finale, and we gave it to him ".
In my opinion it remains one of those TV series that should still be seen, perhaps with friends or family, in Autumn, with the awareness of having a laugh to the sound of broken bones.
Possibly not yours.
---
[1] Temperance Brennan is an internationally acclaimed forensic anthropologist who works with her staff for the Jeffersonian Institute (inspired by the Smithsonian Institution and its actual partnership with the FBI), as well as being a writer of successful novels inspired by her profession. One day Temperance is contacted by FBI agent Seeley Booth to help him solve a murder case in which the victim's corpse is in very deteriorated condition (decomposition, combustion and mummification), and for whose identification analysis is necessary. of the bones; the two had already worked together in the past and had not left on good terms, but they decide to put their resentment aside and come back to collaborate. The investigation is soon resolved and, given the results, from that moment "Bones" (as Temperance is nicknamed by Booth) and his team begin to work closely with Booth and the Bureau to solve apparently very complicated murder cases.
[2] Fun Fact: Kathy Reichs appears in a cameo in the eleventh episode of the second season, The Double Face of Faith, as Professor Constance Wright, a forensic anthropologist on Zack Addy's graduation committee. [10] In the fifteenth episode of the second season, Murder by Murder, it is revealed that the protagonist of the Temperance Brennan books is Kathy Reichs.