Until I have removed that I am dating a person. Romantically.

Said that sounds horrible, and maybe a little bit it is, but it was just a moment, a bad game of the mind. Approximately. I think. Probably.
Through The Mirror
Everyone forgets things: the clothes in the washing machine, the food in the microwave, the keys on the desk, the shopping in the car, the dentist's appointment …
Most of this forgetfulness are harmless (apart from the gas, we all pay attention to those thanks!), It is that our mind has to process an infinite series of information and often we happen to be so focused on the immediate future that we do not pay attention to what is happening to us now, right in the present.
How many of you lose their train of thought while they are talking? Or do they leave for a room in the house but when they get there, they no longer remember what they had gone to do?
It happens![1]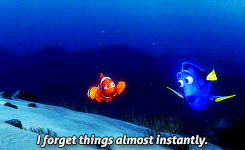 On Thursday, for example, I forgot the keys in the lock, and luckily, I realized it before doing damage. Once, years and…
View original post 941 altre parole